U.K. pension deficits surged by 100 billion pounds ($131.4 billion) in August, as the gap between company set-asides and their obligations to retirees ballooned by more than 16 percent in a month.
So-called defined benefit pensions, which pay retirees fixed amounts based on service, were underfunded by 710 billion pounds as of Aug. 29, according to PricewaterhouseCoopers LLP's Skyval index, published Thursday. The index tracks about 6,000 defined benefit schemes in the U.K. Should the deficits persist, companies could be forced to slash dividends as they increase their pension contributions to plug funding gaps.
"There's a cash availability issue for sure," Raj Mody, global head of pensions at PwC said in a telephone interview. "If companies generally are having to pay more in their pension schemes in cash terms, that might mean they've got less to pay to their shareholders in dividends."
Pension deficits have swelled since the U.K. voted to leave the European Union on June 23. Following the referendum, the Bank of England boosted stimulus to protect the U.K. economy, pushing government bond yields to record lows and reducing returns on fund investments.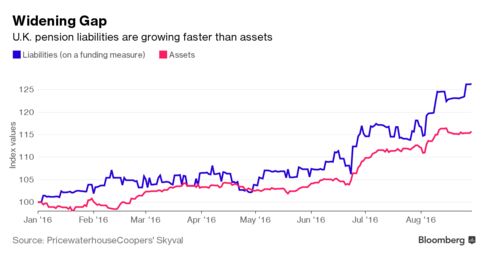 Companies shouldn't ignore the impact on their pension funds, Mody said.
"It absolutely needs to be taken very seriously because the situation is worse than it has been," Mody said. "Every individual scheme out there needs to catch up with what its situation is, what has happened to its funding position. More likely than not it will have to take more proactive action than it was ever expecting to do."
Mody expects further action from the Bank of England too, as it seeks to reassure participants in the British economy in uncertain times. Half of the country's pension funds haven't hedged against further declines in long-term interest rates, he said. "The challenging environment for pension funds is likely to endure for several years," Mody said in a statement.
The deficit has already started to bite. Carclo Plc, a maker of plastic components for technical and consumer products, said on Wednesday that it's unlikely to pay a planned dividend of 1.95 pence per share on Oct. 7. The West Yorkshire, U.K.-based company projected a "significant increase" in its pension deficit unless corporate bond yields recover by the end of September.
Shareholders in large firms could also feel the effects. Telecom carrier BT Group Plc said in its annual report in May that "higher deficit payments could mean less money available to invest, pay out as dividends or repay debt as it matures."
A fund run by Woodford Investment Management LLP sold its stakes in both BT and BAE Systems Plc, Europe's biggest defense company, citing pension concerns. Woodford's head of investment communications, Mitchell Fraser-Jones, wrote in a blogpost last week that "concerns about their pensions has reduced the level of conviction that we have in stocks such as Royal Mail, BT and BAE Systems."
Consultancy Hymans Robertson, which found last month that the deficit among U.K. companies had increased to 1 trillion pounds, said quantitative easing had caused costs for defined benefit schemes to spike over 50 percent of pay for many of them, which "simply isn't sustainable." Just two FTSE 100 companies are still offering new hires access to such plans, according to consulting firm Lane Clark & Peacock.
Economists in a Bloomberg survey in August predicted the BOE would once again cut rates in November. This would likely depress yields on the benchmark 10-year gilt, which hit a record low of 0.501 percent on Aug. 15, even further.
Meanwhile, BOE Chief Economist Andy Haldane sparked controversy last weekend when he suggested in an interview with the Sunday Times that buying a home was a better investment than a pension.
"It ought to be pension but it's almost certainly property," Haldane told the newspaper.
Original article from Bloomberg